Are you looking for the best WordPress theme for Electricians? If you are, we have very good news for you. We have found a theme that will be good for creating websites for electricians. Today we will be reviewing "Electrician – Electricity Services WordPress Theme" which has everything that you need in an electrician theme. There we will be considering some key factors such as design, features, site speed, technical specifications, and what we like and what we do not like about this theme and share the findings with you. We think reading the in-depth review will help you get a clear idea about the electrical WordPress theme.

Electrician – Electricity Services WordPress Theme
This electrical WordPress theme is a modern, clean and professional WordPress theme That has some super unique features that will help you to create smart websites for electricians. The theme is fully responsive and it looks attractive on all types of screens and devices. The electrician theme is the best choice for all electrician and electricity services businesses' websites. If you're looking for a high-quality designed theme with more extra features for your electricity services, so Electrician theme is the best option for you to release your website within a very quick time.
Features
1. Compatible with Elementor
A theme that can be edited with WordPress's most popular page builder the "Elementor" is a plus point. It is super easy to edit and customize the theme with the page builder. As a result, anyone including beginner WordPress users can customize the theme with Elementor.
2. Premade inner pages
Having ready inner pages in a theme is life-saving as you do not need to think of creating inner pages by yourself. Our premade inner pages help you get your required pages within a second. We tried to make the pages convenient and functional so that you can get the best out of them.
3. Instagram Plugin
Plugins help to add more features to the theme and we have added this amazing plugin to improve the theme even further. You can use Instagram images and videos using the Instagram plugin to create attractive galleries.
3. Responsive/Retina
If you looking for one of the best electrical website templates, then choosing the Electrician WordPress theme is your ultimate solution. The theme is retina ready and highly responsive and can be displayed perfectly on any available device.
4. Mobile version
The theme must be mobile-friendly nowadays as the number of visitors using mobile is increasing. You will get 320 px mobile version ready in the theme package.
5. HTML5 & CSS3
The theme is built with the latest HTML5 & CSS3 so that you will get the assurance of better coding.
6. Fast and effective Support
You may need assistance while customizing the theme and that's why we are offering effective guidance for you. Our support team tries to respond immediately to any queries and come up with the best solutions.
Design
When you are planning to get a high-quality designed theme with more extra features to create websites for electricians, then choosing the Electrician WordPress theme will be the best option for you. The design of themes is fully responsive on any device which means your visitors will be amazed by the seamless user experience.
Speed analysis
Speed is a factor that must not be unnoticed when you are going to purchase a WordPress theme. We have performed a speed test of the Electrician WordPress theme so that you can get an idea of how awesome the theme performs. We will share the report from the test here for you. We are using GTmetrix to run the test for the theme.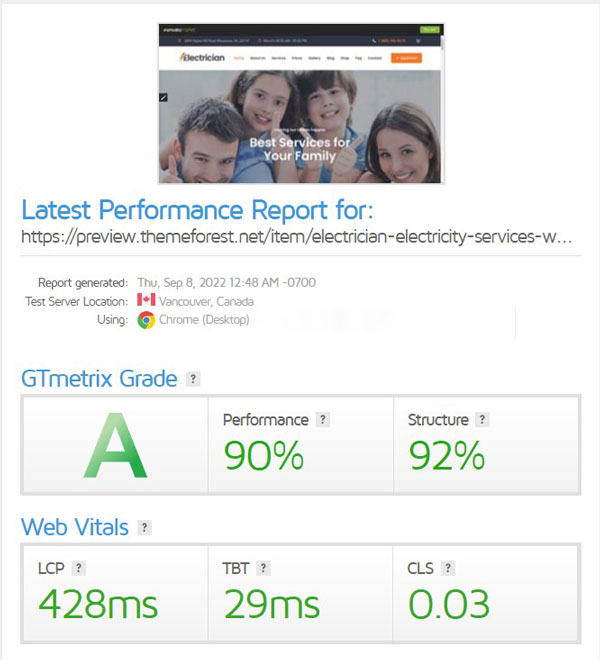 What we like & what we don't like
Now it's time to share our opinion on this Electrician theme. Here, we will tell the things we like and do not like about the theme. Let me share with you what we like about the theme and what we do not.
Things we like-
Bootstrap framework
Use of the Instagram plugin
Elementor compatibility
Mobile-friendliness
Ready inner pages
Things we don't like-
Not compatible with Gutenberg
No home page demo options
Why you should buy
We have included all the crucial information about the Electrician- Electricity WordPress service theme so that you can understand how this theme will fulfill your project's requirements. The theme offers flexibility when it comes to building websites for electricians. Moreover, you will need no coding knowledge to customize the theme. The theme has everything that you will require to build your project smoothly in the shortest possible time.
The Electrician is a commercial electricity WordPress theme that has all the features such as booking submission, a single property, agencies and agent admin dashboard, compare property, agencies & agent list, etc. In short, this is a complete package for your upcoming WordPress websites for electricians.
Conclusion
This is a detailed review of the Electrician- Electricity WordPress service theme where we have covered features, design, speed optimization and other important factors. After reading the review you will understand whether you should purchase the theme or not for your project. We believe that this theme will be chosen by many to create perfect WordPress websites for Electricians.
You may also read: How to Delete a WordPress Account