How to delete a WordPress account? This may not be a happy question but people need to know about it at some point. You may have to say goodbye to WordPress because of different reasons. You may want to move your site to a different CMS or you may need to take a break from all these website-related activities. So, if you want to get rid of your WordPress site for good, you need to know how you can do that properly without facing any problems.
If you are seeking the solution to how to delete a WordPress account, then this writing will be worked as a step-by-step guide for you. Before showing you the account deletion process, let me tell you some reasons that inspire people to go for it.
Reasons to delete a WordPress account
Although WordPress is one of the most popular Content Management systems (CMS), there are some common reasons that inspire people to delete their WordPress accounts. It's really hard to figure out all the reasons for leaving WordPress as people have their own causes for deleting their WordPress accounts. I am sharing a few very common reasons for deleting a WordPress account so that you can get the idea.
1. Start from scratch
Maybe you created an WordPress account once but did not use the account. You just leave your information and content unused on the account for a while. Now you want to start using a WordPress site but you are not aware of the previous site information. As a result, you do not even know how much you worked and how you continue with the previous site.
In this case, you better delete the previous account and create a new one. I personally experience that it is easier to start from scratch rather than continue work on an old project that you are not well aware of. So, if you have the same situation, this might be the best option for you to delete your old account and start from scratch.
2. Change the CMS
Many people start with WordPress as it is very popular and easy to use for a beginner. Later they migrate to other CMS when they seek some features that may not be available or not up to the mark as other CMS. When you have found a CMS that is better than WordPress and fulfill your requirements, you may decide to migrate to the new CMS.
Especially, people often switch the CMS when they think their requirements are not possible to fulfilled using the current CMS. Changing the CMS is one of the most popular reasons for deleting the WordPress account. For example, you may find other CMS such as Shopify is better for running your eCommerce store effortlessly.
3. Security issues
If you are not using the WordPress site regularly, then it is wise to close the account permanently. You should also delete the active sites before you close the account. Moreover, when you do not have any paid plan and you are not running a website properly, it is better to delete the account considering the security issues. Otherwise, your account may get hacked and you can lose valuable information or face other threats.
How to delete a WordPress account- Easy process to follow
When you are using the hosted WordPress create an account on WordPress.com, you can use both free and paid plans. I am going to show you the account deletion process step by step so that you may not face any issues while performing the task.
How to delete a WordPress account
Step-1: First of all, you need to log in to WordPress.com account.
Step-2: Click on the "Profile Icon" in the top right corner of the screen.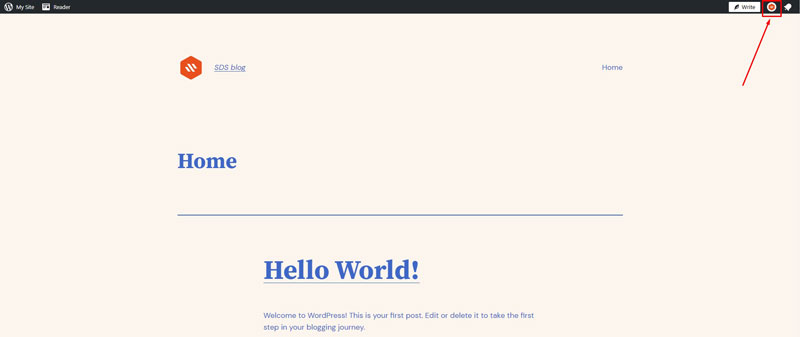 Step-3: Go to "Account Settings" and then click on "Close your account permanently".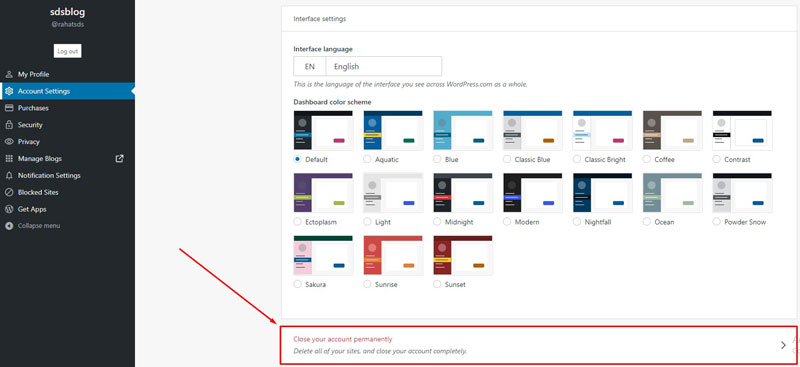 Step-4: Here, it will show you the things you cannot undo once you close your account. If you are okay with it, then click on "Close account".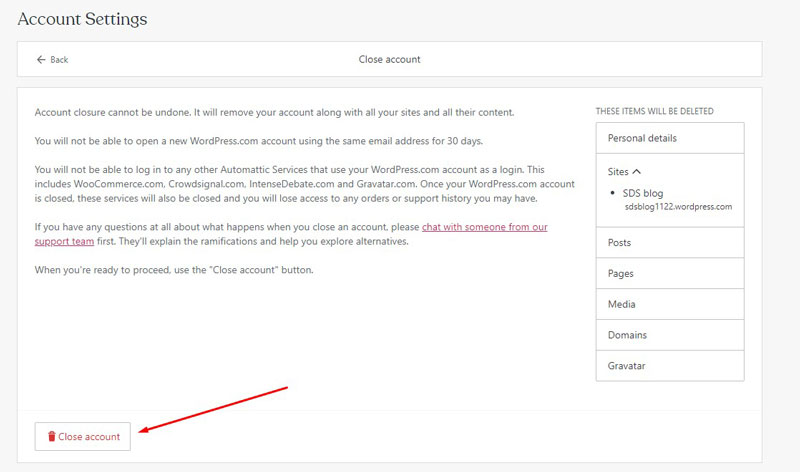 Step-5: Here, you will get some other options rather than deleting your account. Click on the "Continue" button to proceed with the deletion task.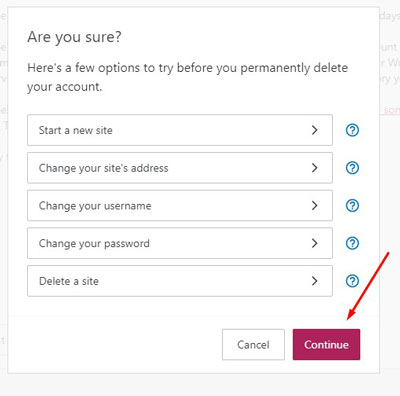 Step-6: Type the account name and click on the "Close your account" button to complete the process. That's all, you should be able to delete your account by following these steps.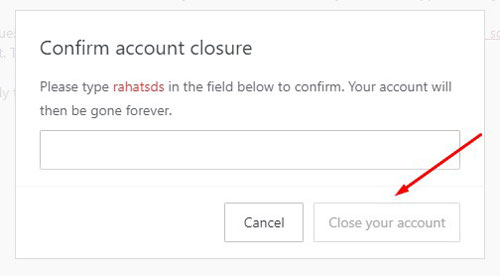 But before deleting your WordPress.com account, you need to delete all sites on this account. So, just like how to delete a WordPress account, you also need to know how to delete the sites from your WordPress account. Do not forget to backup all necessary content and data from the site before deleting it. After deleting the site, you will lose all the site content forever although you can recover the data within 30 days if you delete your account mistakenly. So, let me show you how you can delete your sites before deleting your account.
Step-1: From the dashboard, go to "Settings".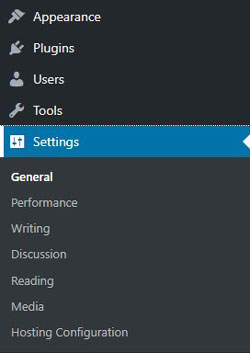 Step-2: Then click on "Delete your site permanently".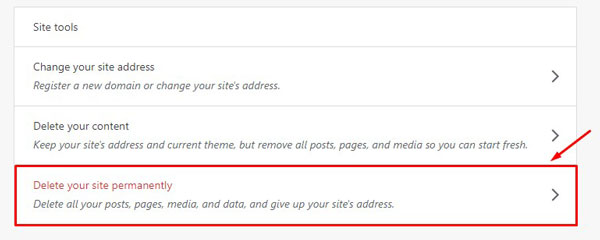 Step-3: Here, you will see what you will lose once you delete the site. If you still want to delete the site, click on the "Delete site" button.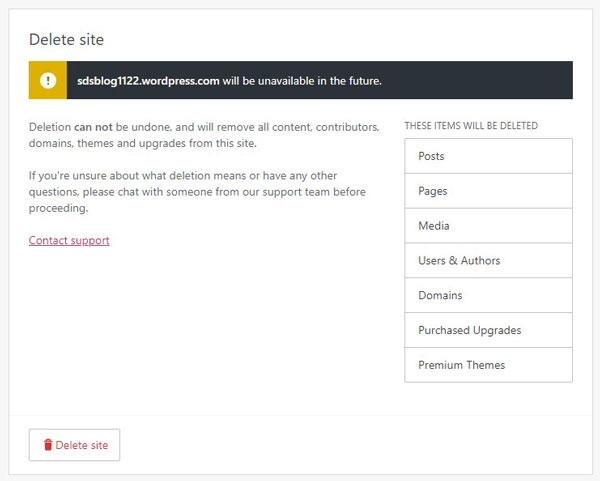 Step-2: Here, you can export all the site content and keep them as a backup so that you can use the content later if you want. If you have content that you think is useful for future usage, then you must take the backup now. When you are done exporting the content, move on to the next process.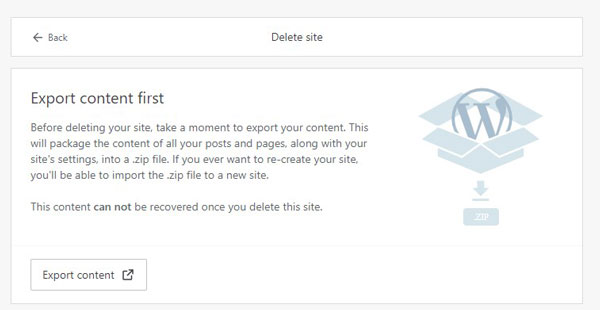 Step-5: Now, type the site name in the given field as it shows and clicks on the "Delete this site" button.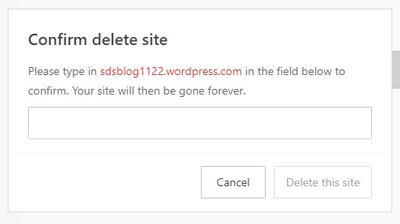 Your site is deleted successfully. If you have multiple sites, you can do the same for the rest of them. When you are done deleting all the sites of your account, you are good to go to close the account for good.
Conclusion
Now you should not wonder how to delete a WordPress account as you have just read the step-by-step guide. I believe that anyone will be able to delete their WordPress account by reading the complete guide.
You may also read: How to Create Your WordPress eCommerce Store Step by Step